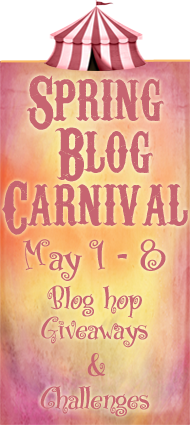 It's May Day, the weather's beautiful now (Though poor Lori over at Pure Imagination got hit hard by the storms. She's doing a bit better but my heart goes out to her and her family.), and it's time for a carnival hosted by
Lori at
Pure Imagination
, Angela at
Reading Angel
, Candace at Candace's Book Blog and us (of course!).
Here at The Book Swarm, I'm the carnie running the rollercoasters (usually a little scary but taking your life in your hands is all part of it, isn't it?). I don't know about you but I love a good rollercoaster--both the real ones and the emotional ones. So, in keeping with our rollercoaster theme, I'm giving away a contemporary book that'll take your emotions for a ride.
THE LAST LITTLE BLUE ENVELOPE by Maureen Johnson
(check out my review
HERE
)
SEAN GRISWOLD'S HEAD by Lindsey Leavitt
(Check out my review
HERE
)
A CONTEMPORARY BOOK OF YOUR CHOICE
(limit $15 @ The Book Depository)
This is an INTERNATIONAL giveaway. All you have to do is fill in the form below! Oh, and don't forget to stop by the over 200 (!) other blogs who are partying at our carnival -- Linky at the bottom of the post.
Check out these other party-goers: